If you're serious about your motocross training program then you're about to learn the #1 thing missing from it.
It's not fitness-related, it's not an on-the-bike skill either, nor is it nutrition-based.
All of these are an important part of your MX training but there's one thing that's been holding you back far too long.
It's your mental game!
"The mental side of all sports is arguably one of the most important and is just beginning to enter into the MX and SX scene." – Dr. Jay Cavanaugh"
AJ Catanzaro, a professional motocross and supercross rider, claims motocross and supercross is 80-90% mental.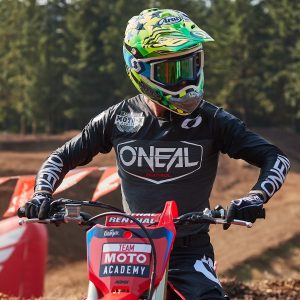 Where is your mental game at and what do you intend to do about it?
Let's discuss some possible solutions and get you some better results.
How to Know If Your Mental Game is Holding You Back
Here are just a few of the things I hear all the time from motocross and supercross racers with weak mindsets.
"I just don't feel like myself out there."
"Why can't I race like I practice?"
"I can't seem to get comfortable on the bike."
"If I could just start believing in myself."
"I'm riding so tight I can barely feel my arms."
"The harder I try the slower I get."
"This isn't even fun anymore."
If any of these sounds like you then keep reading!
"The biggest issue in motocross is we often know our mental game is off yet our egos avoid finding a solution."
The modern-day solution to a motocross athlete filled with doubt is to tell them to "Just send it!"
"Just send it" to someone filled with doubt often turns into "Just bend it" when they override and end up crashing.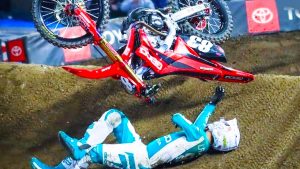 Let's get more into the mental side of motocross and supercross and reveal where plenty of opportunities for you to improve lie.
The Benefits to Adding Mental Skills Development to Your Motocross Training
Let's dive into some of the benefits you can experience with a well-developed racers mindset.
Start to believe in yourself.
Begin to race like you practice.
Feel more prepared before your next race.
Your confidence will improve your off-track life.
Start getting better holeshots.
Begin to see a shift in your results.
Enjoy racing a lot more!
These aren't even 50% of the benefits you'll experience once you put the time into building your mental skills.
"The biggest benefit I see with the athletes I do high-performance mindset coaching with is they start to enjoy riding again like when they were younger."
You're willing to invest over $10,000 into your bike, but when are you going to start investing in yourself?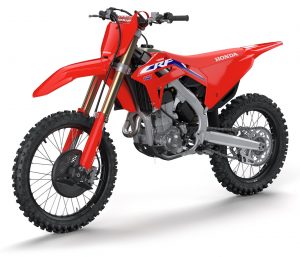 7 Ways to Start Becoming a Mentally Tough Rider
Let's get into some actions you can take to start improving your mental game and get faster!
Each of the topics we will discuss below may sound new to you but don't let that intimidate you, let it inspire you.
1. Become more self-aware
You'll also hear this stated as being mindful, but I bet you never really looked much into it, right?
This simply means becoming more aware of your thoughts, feelings, actions, and decisions.
The more self-awareness you build the more opportunities to improve are revealed.
2. Better manage your focus
Your attention is your greatest asset, just go on Facebook and you'll see how much they value your attention.
Where you place your focus and attention is where your energy goes.
Are you placing your limited energy and time in the right places or is this an opportunity for you to improve?
3. Start managing your expectations
If you've ever felt frustrated then I can almost guarantee you that you're expectations were not met.
When expectations go unmet we emotionally respond with anger, frustration, and resentment.
Focus on setting intentions over expectations because intentions are 100% within your control.
4. Improve your emotional control
Your emotions guide your thoughts, decisions, and actions.
As a motocross athlete, you must control your emotions instead of letting them control you.
This is an art and skill that takes time but can yield huge rewards and will cut your mistakes in half.
5. Choose to respond instead of reacting
This may not sound all that sexy but it's a skill that feeds into mastering your emotions.
When someone t-bones you or cuts you off at the line responding controls the subsequent emotion you'll experience.
When you respond, you place yourself in control of your emotions instead of allowing your automated default response to control you.
6. Master the art of letting go
This is one of my favorites as it's a top 3 skill for moto and for life.
The longer you are emotionally attached to your mistakes, the longer you suffer as a result of them.
Reduce the emotional value you place on the mistakes you make and you will be able to recover from them 3X faster!
7. Use breathwork to reduce race day anxiety
One of the first skills you'll ever learn when it comes to the mental game is to control your breathing.
Using the physiological sigh paired with a shift in your narrative works like a charm in reducing race day jitters.
You can beat anxiety when you have got the tools in your toolbox to do it!
What Action Should You Take Next?
You can do it on your own or work with a motocross trainer who specializes in coaching the mental game of motocross and supercross.
I'm your guy!
"My name is Dr. Jay Cavanaugh of RAK Racing and I have worked with top motorsports athletes across a broad range of disciplines."
If you're a pro rider, we do have a limited number of one on one coaching spots available so reach out at least 3 months prior to the start of your season.
If you're a novice, amateur, or expert rider and want some help mastering your mental game we have a group coaching program you'll love.
We cover the same topics covered with our professional athletes yet it's all done in a private online group setting.
If you want to learn more and be interviewed for this group send me a direct email and we'll get you started.
Stop letting yourself be your own worst enemy.
Ramp up your motocross training to include the missing piece of the puzzle.
Email us today!