How much of sports is mental? A recent study shows sports are 83% mental!
The answer might surprise you!
I decided to do an informal survey on LinkedIn, and here are the results!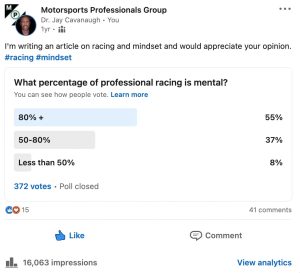 How Much Of Racing Is Mental?
372 votes were cast for this poll on the mental side of sports.
Here are the results:
55% of people state sports are 80% or more mental.
37% of people state sports are 50-80% mental.
8% of people stated sports are less than 50% mental.
These statistics were conducted in a Motorsports group; however, we have conducted this same exact poll for many other sports and found about a 5-7% difference at most through all sports!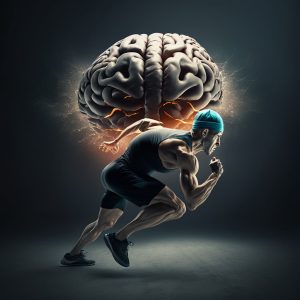 Conclusion
If you're an athlete who isn't mentally prepared, your results will suffer.
Mental skills training is essential for the success of any athlete in any sport, regardless of their level.
The mental aspect of sports accounts for a large degree of the success or failure you will experience.
Need help with your mental game? Call Dr. Jay Cavanugh at 951-999-VIBE (8423)